Mobile Website Development

Is your website mobile friendly?
A mobile website is a customized layout, designed specifically with the mobile user in mind. Although it's true that many of today's "smart" phones have fully functional browsers, and that these browsers can display your website the same way (more or less) that a desktop computer can.. this is usually not a very user friendly way to access your site.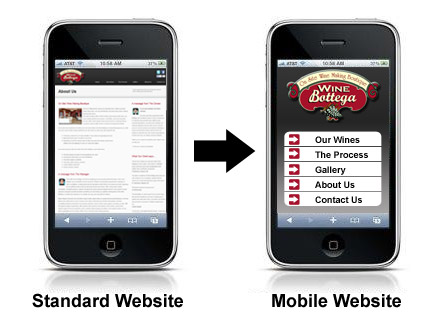 The most obvious difference between a mobile site and your desktop site is the significantly smaller screen size in which your content can be displayed. When a standard website is viewed on a mobile device, the user is left to scroll around, zoom in, zoom out, in order to find and read your information. It becomes difficult to navigate, perhaps even frustrating. Additionally, the large amount of data from a standard website may even cause some phones not to load the page(s). This could mean an increase in your bounce rate (visitors who do not go on to browse the site).
Mobile websites are optimized to load quickly and give instant access to the most significant information on your site. The mobile site cuts through the fat of a standard site and gives the mobile visitor easy accessible information without the need to hunt around for it.
Mobile site customization might included larger buttons (thumb friendly), larger fonts (easy to read without having to zoom in), faster loading (optimized) and the replacement or removal of add-on elements that just don't work on many mobile devices.
Ultimately, the mobile site makes for a more convenient and user friendly user experience.
News

The latest news from our Facebook feed.
Any questions?

We'll get back to you ASAP.