Search Engine Optimization

So, you've got a website, but no one can find you?
A large majority of new visitors to your site, will have found your site via one of the top search engines. If your site is not on the result list, you're loosing out on countless potential hits.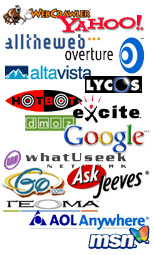 Search Engine Optimization is the process of customizing web pages so that they are more attractive to search engine crawlers (Google, Bing, Yahoo etc.). The goal being, higher rankings of your web pages for specific keywords.
There are numerous factors contributing to the ranking of your site. Everything including the URL of your pages, the Meta Tags (title, keywords, description), Content, Key Word Density, ALT tags of your images, and many more factors all work together to increase your search engine result placement.
We incorporate these requirements in all of our web development projects. We can also modify your existing web site, analyze, optimize and re-submit your site to the major search engines.
Online Marketing

Get your name out there...
Online Marketing consists of many aspects and nuances that influence the final results – top positions in search engines.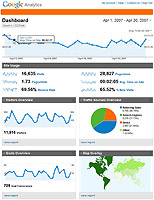 Optimizing your site is a good start but it may not be enough. Researching your competition, analyze your content, targeting your META tags and tracking your results are only some of the steps required to increase your ranking.
We offer unparalleled experience in Web Creation, Marketing, SEO and Web Analytics which makes the whole process simpler for you.
Additional marketing services include Cost-Per-Click (CPC) campaigns, E-mail campaigns and Social Media marketing.
Please contact us for more information.